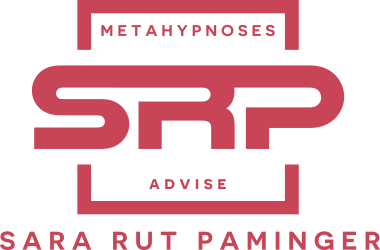 Sara Rut Paminger
.

About me
My Vision
My goal is to provide the highest quality solutions leading to the expected positive results. Through continuous education and improvement of my own skills, I wish to build a structure developing the potential of the human mind and individuals' innate skills. My vision is a world where everyone is able to apply their talents to ensure a greatest future, and where an individual uses their potential to enjoy life and live with a sense of accomplishment.
My Mission
My mission is to provide the highest quality services in the field of Clinical Hypnosis and Chinese Metaphysics in order to activate an individual's potential in terms of health, interpersonal relationships, well-being, prosperity, career and job satisfaction, self-fulfilment and effectiveness of actions. My mission is to support the client on their journey to becoming whoever they would like to be and in achieving their goals.

scroll
My values
RESPECT, LOYALTY, CONFIDENTIALITY, INTEGRITY FOR THE CLIENT
THE HIGHEST ETHICAL STANDARDS OF PROFESSIONAL CONDUCT
INNOVATION AND ENTHUSIASM IN APPROACH TO PROBLEM - SOLVING
COMMITMENT AND CREDIBILITY IN RENDERING SERVICES
Sara Rut Paminger AKA Urszula Paminger is M.A. Master of Laws in the Faculty of Law and Administration at the University of Łódź, Poland and a graduate in Public Relations Postgraduate Studies at the Warsaw School of Economics, Poland. Currently, she does not practice the professions because…
over many years her passion has become a new way of life and a vocation. For more than 12 years, Sara has been involved in broadly defined Chinese Metaphysics (Ba Zi, Feng Shui, Qi Men Dun Jia) and Clinical Hypnosis. She acquired knowledge and experience in the field of Chinese Metaphysics, among others, at the Mastery Academy of Chinese Metaphysies in Malaysia, at the Raymond Lo School of Feng Shui and Destiny in Hong Kong, and at the Yap Cheng Hai Academy in Malaysia. She continuously develops her skills by taking attending lectures and training in Asia. In addition to Chinese Metaphysics, Sara wanted to understand the immense strength and capabilities of the human mind in the process of shaping reality. Therefore, to treat people holistically, Sara also performs Clinical Hypnosis. She acquired the appropriate educational background in hypnotherapy at the Past Life Regression Academy and the Institute of Clinical Hypnosis in London, where she obtained a Diploma in Clinical Hypnosis (DCH). The combination of both disciplines allowed for a comprehensive approach to humans and human nature, as the body and mind are strictly interrelated and to find true balance in life we need to approach them simultaneously.
This is what Sara says about herself:
"I have always been curious as to why life and the surrounding reality is what it really is. The key questions I have been preoccupied with are as follows. Where we are heading? What really affects our life and destiny? What makes our existence happy and peaceful? How should we make decisions that would can help us live wisely and in harmony? In this experience and understanding of its sense, an individual was the most important to me. That is why one of my interests – the psychology of interpersonal relationships together with the knowledge of Chinese Metaphysics and Clinical Hypnosis – means I can help people make informed and reasonable choices without being guided by chance. They are able to manage their lives according to a clearly predefined plan, avoiding perpetual uncertainty.
Through Clinical Hypnosis I can help clients overcome energetic burdens or traumatic past events that lead to mental, emotional or physical blockages.
 With my support and the use of Chinese Metaphysics – Ba Zi, Feng Shui and Qi Men Dun Jia – the client may find a deeper meaning in life, reveal their inner potential and entirely transform their life through the process of apprehension, using the tools to create balance between the environment, humans, time and space. Nothing happens by chance. We are a part of a greater whole, where the powers of heaven and earth stay combined with humanity. The most important thing in this system is that you live in harmony with yourself and the surrounding world. Life is all about endless exploration, so I have been constantly deepening my knowledge and skills by listening to the people who inspire me."
Sara is a member of and registered hypnotherapist at the
General Hypnotherapy Register (GHR) and General Hypnotherapy Standards Council (GHSC)
Complementary and Natural Healthcare Council (CNHC) in the United Kingdom
Sara provides her services in Europe and the Middle East, in both Polish and English. For over 10 years she has been a resident of the United Arab Emirates, where she lives with her husband Michael.
SRP METAHYPNOSES ADVISE provides services within the scope of Clinical Hypnosis and Chinese Metaphysics offering support and advise in the field of health, human relationships, career and finance. I help the client extensively - through listening, conversation, observation, verification, explanation and analysis, so that a complete plan is developed for you and implemented in the real life. 
With the use of therapeutic techniques of Clinical Hypnosis I support treatment of numerous psychological and physical ailments. Through the application of Ba Zi, Feng Shui and Qi Men Dun Jia I help to find the source of problems and improve the quality of your life. Each person is unique for me and requires an individual approach. I want everyone to feel better.
Check out our offer

.
Contact
Do you have a question about my services? Do you need more information? I am glad to provide you with the advice on your Hypnosis, Ba Zi, Qi Men Dun Jia and Feng Shui requirements.
AE
+971 557 86 91 98
PL
+48 783 121 388
sara@sararutpaminger.com
Sara is a member of and registered hypnotherapist at the
General Hypnotherapy Register (GHR)
and General Hypnotherapy Standards Council (GHSC)
Complementary and Natural Healthcare Council (CNHC) in the United Kingdom